The crowdfunding success story as seen in



SUD STUD V2
SudStud solves the problem you didn't even know you had by saving you soap, eliminating bacteria and creating a deeper clean.
Over 10,000+ Sud Stud fans worldwide!
"I feel squeaky clean!"
I'm normally a liquid soap user in both the shower and everywhere else, but I was looking for ways to use bar soap. I had obtained many bars of soap years ago but I just couldn't seem to make the switch. This scrubber/soap holder is probably the best money I've spent recently. It exfoliates without being too rough, and it uses just about the perfect amount of soap so I'm not spending forever trying to get it off of me.
"A game changer to my skincare game!"
This is a game changer to my skincare game! I'm big on exfoliation but I hate having to use so many products/tools. This lightly exfoliates rough for a gentle daily scrub!
NATURAL HANDMADE SOAPS
Cold-pressed soaps made with vegan ingredients that pair perfectly with Sud Studs. No harmful parabens, chemicals, or preservatives.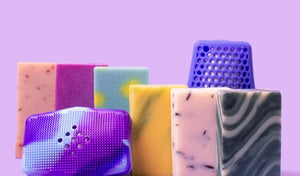 NEW!
Sud Stud Bar Soap Subscription
Get Sud Stud Bar Soaps delivered every month or every other month and save 37%+ off regular pricing.
Subscribe Today
A crowdfunding success story
After raising over $100,000 on Kickstarter and Indiegogo, Sud Stud has successfully delivered to over 3,000 happy backers!
Read The Story