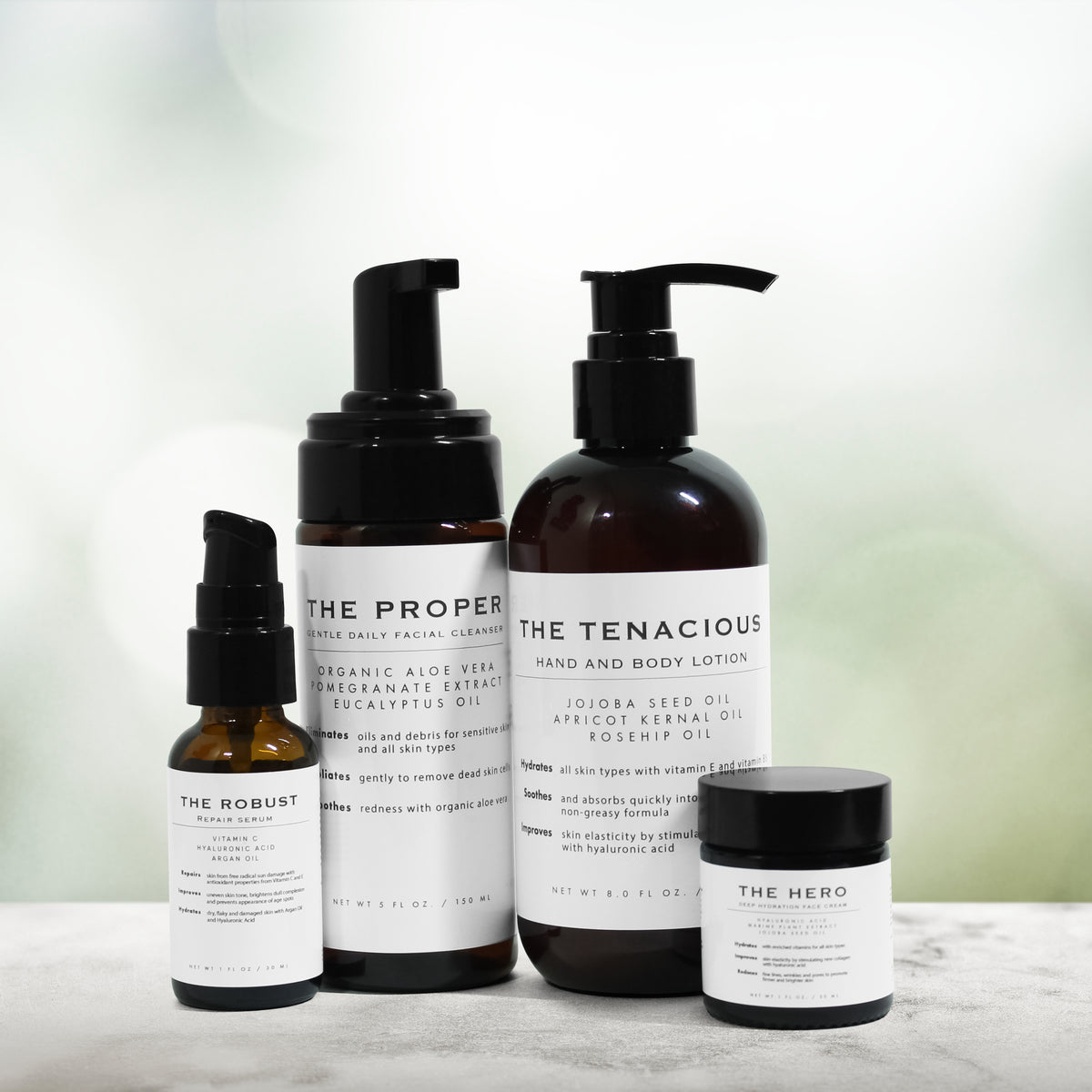 New!
Premium Natural Skincare backed by Science.
4 skincare formulas to clean, repair, & hydrate your skin.
Finding the right skincare products is a confusing, time-consuming, and costly process.
For all those looking for a no-fuss skincare regimen, we've made 4 products formulated by professional estheticians who've done the research.
The Proper Gentle Daily Facial Cleanser removes stubborn grime & oils.
The Robust Repair Serum diminishes fine lines to help age gracefully.
The Hero Deep Hydration Face Cream combats and soothes dry skin.
The Tenacious Hand and Body Lotion hydrates weathered skin.
---
Infused with essential oils for brighter, clearer skin
Formulated by professional estheticians
Gentle & inclusive for all skin types
30-day money-back guarantee
Paraben and sulfate-free
Made in the USA
Regular price
Sale price
$81.00
$140.00
1. Eliminates facial debris & grime.
Start with our facial cleanser to gently exfoliate and remove unwanted facial impurities like dirt, oil, and grime which can prevent a clear complexion.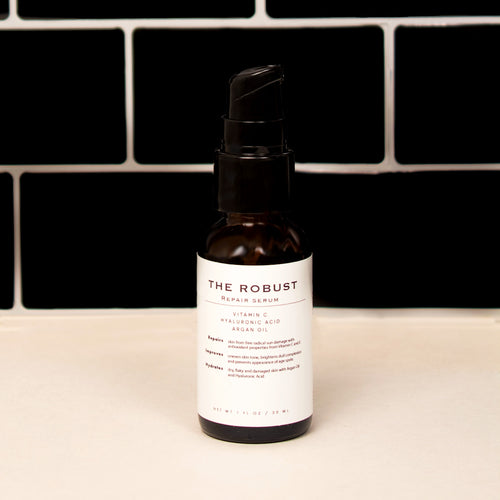 2. Repair your skin & age gracefully.
Use our facial cream and serum to soothe skin battered by the elements with hyaluronic acid & vitamin E while reducing fine lines and wrinkles by boosting natural collagen production.
3. Intensely delivers essential moisture.
Smooth leathery skin with natural ingredients like Aloe Vera and Eucalyptus and lock in essential moisture before a long day.
What Fans Have to Say
"Simple and easy-to-follow."
Most brands sell you 10 or more products to do what the Sud Stud skincare line does in 4. You've got your cleanser, your face and body moisturizers, and repair creams to help get rid of my dark eyes.
"Smells incredible!"
Oh man! Every one of these products smells and feels amazing! I feel refreshed as I go through my morning routine with Sud Stud's skincare line. I LOVE the jojoba in the body lotion.
"Guys, you need to buy this!"
My husband doesn't do face care but gave these a try. He was so impressed with how much clearer his face looked after a few weeks. And I'm loving it! 😉
"Affordable hyaluronic acid."
I've spent hundreds of dollars on products with hyaluronic acid. Both the Hero face cream and Robust serum have it at such an affordable price - I couldn't believe the quality!
"You can feel the difference."
Lots of other brands tend to load their products with filler- not these! Sud Stud's skincare line has all of the goodies needed to take care of your face. When you put them on, you can tell they're using the best ingredients money can buy.
"Shrinking pores and a younger face!"
At first, I was skeptical - skincare products never seem to work with me, but after two weeks using the Repair Serum and Facial Cream, I could see my pores shrinking and my face younger.