Sud Stud may look simple; however...
it's the perfect alternative to filthy loofahs.
The innovative design uses less soap for a gentle clean while also eliminating bacteria build up while awaiting its next use.
Reduce Bacteria Growth
Made with ultra-soft, flexible silicone eliminating bacteria build-up prevalent in traditional loofahs.
Eliminate Soap Waste
By reducing your soap's surface area with our honeycomb pattern, your soap lasts 5x longer.
Gentle On Skin
Perfect for everyday-use, scrubbing with Sud Stud is good for any skin type whilemaking your soap last longer.
Meet Sud Stud.
Stop bacteria cultivation, save money on fancy soaps and clean better than your current shower routine.
Eliminate Soap Waste
To finish one bar of soap with Sud Stud, a regular soap bar user would have already used 4-5 bars of soaps.
Standard Soap Bars — Fit easily inside Sud Stud! When almost used up, simply slip in a new bar.
Large Soap Bars — Cut in half and save for later, reducing the amount of soap exposed to water even more!
Cleansing, Gentle Clean
Every Feature in Sud Stud provides a quality clean:
Honeycombs — Reduces friction between soap and skin by 80%, allowing soap to last 5x longer
Size & Shape — Optimally sized to fit common soap bars while hexagon shape adds more compatibility for gourmet soaps
Pillars & Feet — Internal pillars support the edges for proper form with external feet to lift for drying
Reduce Bacteria Growth
When compared to leading bathroom products, Sud Stud is a clear winner:
Material — Bacteria-resistant Medical-grade Silicone tested for flexibility, durability, drying and safety
Sealed Body — Doesn't hold water or bacteria, with plenty of air holes for easy drying.
Easy Cleaning — Completely sanitize by leaving in boiling water for 2 minutes.
Match Your Bathroom Decor with Sud Stud
Choose from 5 colors to match your personal style.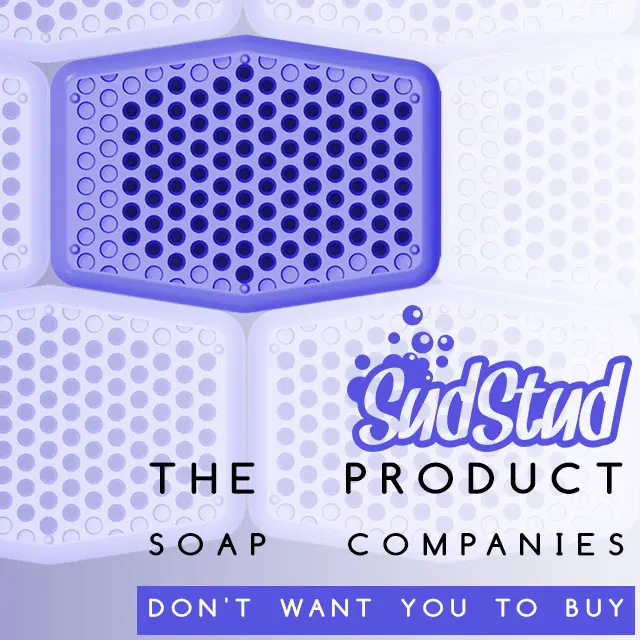 FUNDED on Indiegogo
Sud Stud: Intelligently Designed Shower Scrubber
Tysons Corner, Virginia
Clean better while using up to 80% less of your favorite soap with Sud Stud.
Love For Sud Stud
With over 6k happy customers and growing. Here is what some of them have to say.
Personally I find that you can very easily start a lather by just kneading the sud stud, making the silicone rub against the soap. The whole setup retains water as well, so I don't need to keep wetting the thing. Just a rinse with the showerhead, knead the thing a bit, and scrub away. I can scrub my entire body before the lather runs out.
Once again, I can't say enough about this product. I'm still on the same bar of soap from my post below, 10 days ago. I can confidently say it has tripled the life span of my soap. I'm super stoked to be able to share this product with friends of mine too. With all the new ideas and stuff advertised all the time, I can't recall a product I've found that more than delivered on its promise.
The lather is unreal! It works for me. It lathers my soap pretty well and the Sud Stud case makes less soap residue in the shower so its less to clean.
Wow! It fits my favorite LUSH soaps! I use Lush's Sea Vegetable soap bar. I had to cut my soap in thirds and it fit into the Sud Stud perfectly fine.
For sure was not easy to get a whole bar of the squatch in there, but for sure is the best soap saver I've ever used
Despite some drawbacks its signficantly better than the $2 soft scrubber soap pouches I was getting at Wal-Mart. Allows the soap to fully dry between uses and lathers easily.
After using it for a few weeks I gotta add that it's much easier to lather now once you get used to the technique. I found that the soap bar can actually be rolled while inside the sleeve so it lathers almost instantly by creating friction against the silicone. Very well worth the money in my opinion.
Gentle on my skin. I've had the sud stud for about a week and I can definitely tell my soap's life span will be increased. It hasn't irritated my skin and I have seasonal eczema. I'm excited to see how long my Sud Stud can last.